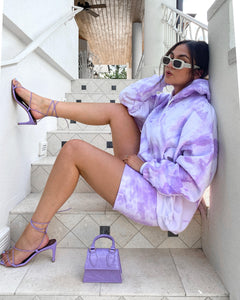 Modeled in size: XXL 
Model height: 5'8" (Wisteria) 5'4" (Moon)
Estimated delivery: 
We are in this together for the long haul! Please allow up to 2-3 weeks for us to personally order, dye and ship your product. Please note, we are doing everything we can to keep everyone safe. Thank you!
Exchanges Only + $12 Restock Fee
Each Hoodie Material:
50% Cotton
50% Polyester
Made in South America.
Recommend - Machine wash cold with like colors, tumble dry low. 
Sweatshirts:

US SIZING
| | | | | | |
| --- | --- | --- | --- | --- | --- |
| | S | M | L  | XL | XXL |
| CHEST | | | | | |
| inches | 34-36 | 38-40 | 42-44 | 46-48 | 50-52 |
| cm | 86-91 | 97-102 | 107-112 | 117-122 | 127-132 |
| | | | | | |
| WAIST | | | | | |
| inches | 30-32 | 34-36 | 38-40 | 42-44 | 46-48 |
| cm | 76-81 | 86-91 | 97-102 | 107-112 | 117-122 |
|   | | | | | |
| HIPS | | | | | |
| inches | 34-36 | 38-40 | 41-43 | 44-46 | 47-49 |
| cm | 86-91 | 97-102 | 104-109 | 112-117 | 119-124 |
Cropped Crewneck:

US SIZING
| | | | | | |
| --- | --- | --- | --- | --- | --- |
| Measured in: cm | S | M | L | XL | XXL |
| 1/2 Chest | 49.5 | 52 | 54.5 |  57 | 59.5 |
| Sleeve Length | 54.5 | 55.5 | 56.5 | 57.5 | 58.5 |
| 1/2 Sleeve opening | 9 | 9.5 | 10 | 10.5 | 11 |
| Length | 43 | 44 | 45 | 46 | 47 |
| 1/2 Bottom | 49.5 | 52 | 54.5 | 57 | 59.5 |
Sweatshort:

US SIZING
| | | | | | |
| --- | --- | --- | --- | --- | --- |
| Measured in: cm | S | M |  L | XL | XXL |
| 1/2 Waist | 39.5 | 41.5 | 43.5 | 45.5 | 47.5 |
| 1/2 Hip | 52 | 54 | 56 | 58 | 60 |
| Length | 37.5 | 38.5 | 39.5 | 40.5 | 41.5 |
| Front Rise | 27.6 | 28.4 | 29.2 | 30 | 30.8 |
| Back Rise | 35.4 | 36.2 | 37 | 37.8 | 38.6 |
Windshort:

US SIZING
 

Measured in: cm

S

M

L

XL

XXL

1/2 Waist

35.5

37.5

39.5

41.5

43.5

1/2 Hip

52.5

54.5

56.5

58.5

60.5

Length

31.3

32.3

33.3

34.3

35.3

Front Rise

29.2

30

30.8

31.6

32.4

Back Rise

38.2

39

39.8

40.6

41.4